The Media Impact of the Year Award
The first British Asian Media Awards felicitates diversity within the media industry
The inaugural British Asian Media (BAM) Awards saw the South Asian media and advertising fraternity come together to celebrate and felicitate diversity, emerging trends and campaigns which empower the South Asian media industry. The BAM Awards created a movement within the industry, to empower and recognise the collective efforts of channels, agencies and media partners.
The Media Impact of the Year Award was conferred upon Tony Lit MBE for his contribution to the British Asian media industry. Today, Tony is a leading figure in the Asian media industry and has become renowned for his tireless efforts and skill in integrating and promoting the Asian community. Tony and Sunrise Radio, have been instrumental in creating a distinct identity for the modern British Asian community and in promoting a unique culture which borrows from both its South Asian origins and British upbringing, making it a creative powerhouse as is evident in the global success of British Asian Music, Food and Fashion Industry which is now even emulated in the subcontinent. Under Tony's hands on leadership Sunrise Radio continues to the be the UK's number one Asian radio station, attracting almost half a million listeners across the UK at any one time.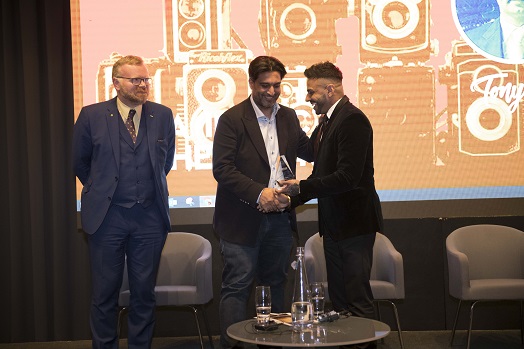 The awards were officially launched earlier in the day at the Institute of Practitioners of Advertising amongst a select industry audience; and was supported by ICICI Bank UK Plc, Kings College London and the India Gazette. The awards were hosted by television presenter Natasha Asghar and was attended by writer Aatish Taseer, Tim Jones CBE, newly-appointed Executive Director, Tata Limited, Dinesh Dhamija (Founder Ebookers), Gaurav Jandwani (Senior Vice President & Business Head-Star Network UK), Manish Tiwari (Managing Director Here and Now 365), Sajjad Shawl (Alliance Advertising and Marketing), Rakesh Oberoi (Account Director, Westmill Foods), Derek Martin (Marketing Manager TRS), Shalin Patel (Vice President – Business Head Europe at Sony Pictures Entertainment), Miyrah Mistry (Marketing Manager at Sony Pictures Entertainment), Vasdev Tuli (Sales Director, Indiacast Media), Shafi Rahman (Editor India Gazette) and jury members Vinod Warrier (Business Director GTB) and Subhash Ghosh (Founder Lemon Connect).